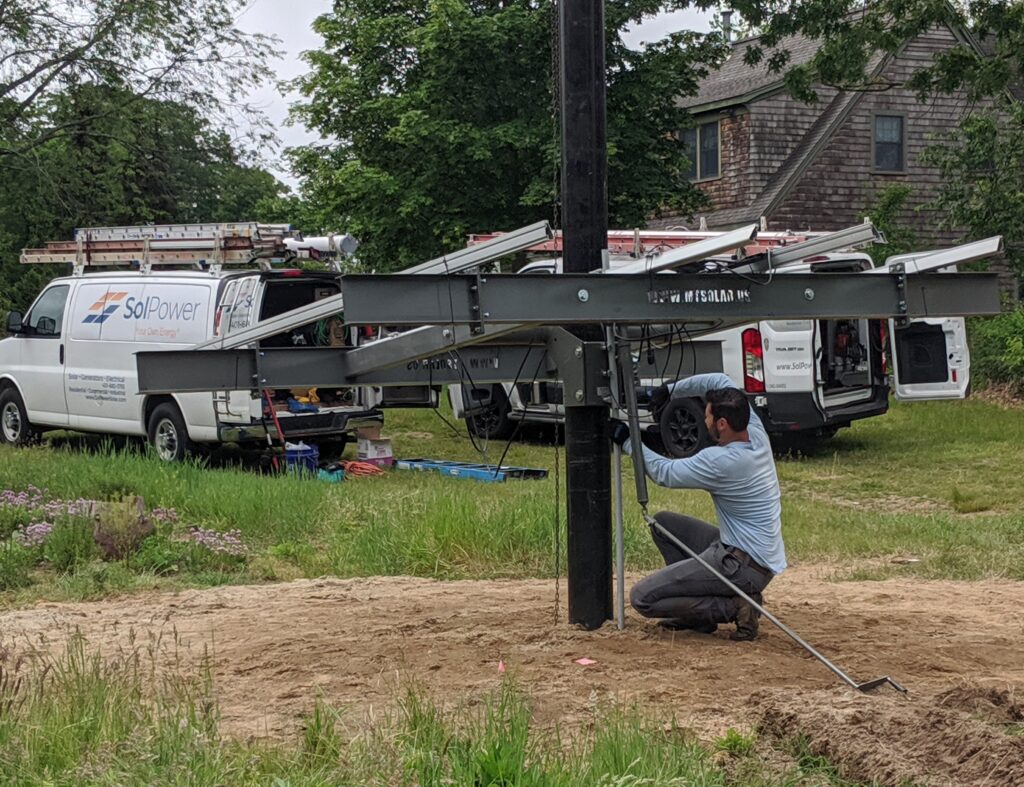 The BFS solar array is officially online and producing renewable energy. The project began more than three years ago through a collaboration with BFS volunteers, high school students, electricians, and local solar experts. After several design and location ideas, we settled on a single pole-mount system that allows for shading as well as pollinator habitat beneath the panels.
BFS lost electricity after purchasing the farm four years ago. We relied on gas generators and even extension cords from a neighbor to run our well pump and other equipment. Now the 2.25-kilowatt system generates power for all farm electrical needs, such as battery-powered tools and equipment. Students and visitors will learn how the sun grows plants and creates energy.
A big "thank you" to the SolPower team for leading and building the project. As well as input from SunWatt Solar.
The project was supported by farm donations and a grant from the Rhode Island Farm Energy Program. Thank you to Jo-Anne Pacheco and Paul Dolan from the RI Resource Conservation and Development Area Council for their time and patience.
The many volunteers who put lots of time, sweat, and ideas into the project include Eric Beecher, Candace Clavin, Peter Hughes, Tyler Mason, Bev Migliore, Jack Perugini, Ron Pitt, Dane Pursley, Blaise Rein, Michael Suriani, and Bobby Vendituoli.
Completed August 15, 2021
Eight, 320-watt panels made by Silfab Solar of Ontario. They have a 25-year warranty.
The single pole-mount system was made by MT Solar of Charlo, Montana.
2.25 kilowatt capacity system
Expected to generate 9 kilowatt hours per day on average.
Or 3000 kilowatt hours annually.
The panels can be tilted to maximize exposure to the sun. It should be moved at least four times per year.