Fund-A-Farmer Campaign
In 2018, the Barrington Farm School was established by members of the community to preserve a 120-year-old, 3-acre farm in Barrington with the purpose of teaching people to grow healthy food and preserve the environment.
The farm has made tremendous strides since it was founded. Soil health has been improved by compost produced on the farm. In 2021, the farm processed 23 tons of food waste into organically rich compost. Approximately 100 volunteers of all ages and backgrounds work on all aspects of the farm operation. In the past year, the farm has added electricity, solar panels, irrigation, a new shed, and a high tunnel for extending the growing season. We donate 1/3 of our produce to a local food pantry.
Needs
In 2020-21 the farm's first-ever strategic plan was developed to position the farm to be sustainable into the future. We are now prepared to take a giant step forward with the hiring of two new part-time positions: a Farm Manager and a Volunteer Coordinator. These positions will greatly enhance the farm's operation and accelerate the achievement of the farm's mission and vision, allow us to increase production, extend hours at the farm stand, and teach more people to grow food for our community. Our goal is to raise $25,000 for the 2023 growing season.
Please Donate Today
All Donations of $50 or more will receive a beautiful Barrington Farm School Sponsor Door/Window Sticker
Silver                        $250-$499
The above plus recognition for one year on our website as a Silver donor, if desired
Recognition in our newsletter as a Silver donor, if desired
Gold                          $500- $999
The above plus your family or company's name prominently displayed on a personalized sign for one year at the end of a crop row on the farm, if desired
Platinum                $1000 and above
The above plus listing of your sponsorship on a Friends of the Farm sign displayed at the farm stand, if desired
Donations can be mailed to: Barrington Farm School, P.O. Box 41, Barrington, RI 02806
Or online through Venmo or PayPal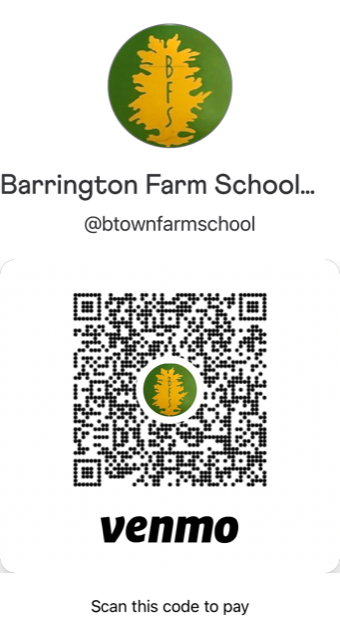 Financial partners help us grow!