The Latest…
September 30, 2022
No worm tea this weekend. But join us for mixing Sunday at 9 a.m. and Wednesday at 3:15 p.m. for fall mixing.
Lots of finished compost is being spread on fields during the week. And we can't wait for the bounty of leaves to come our way for mixing.
Thanks to Mike for shredding lots of sticks with our electric shredder.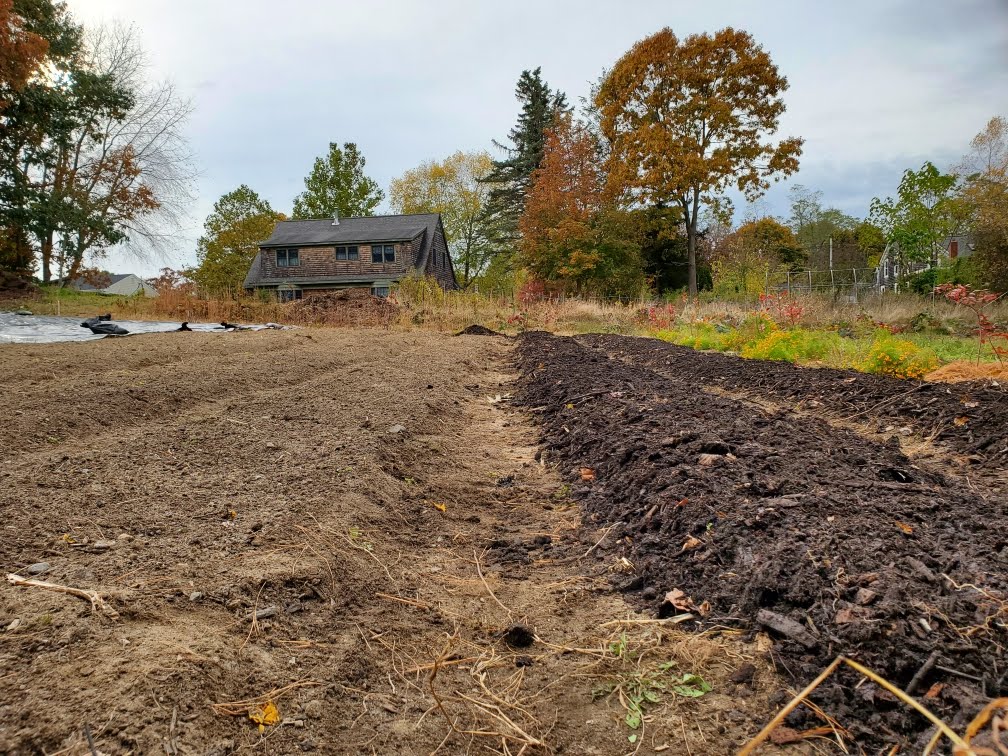 September 16, 2022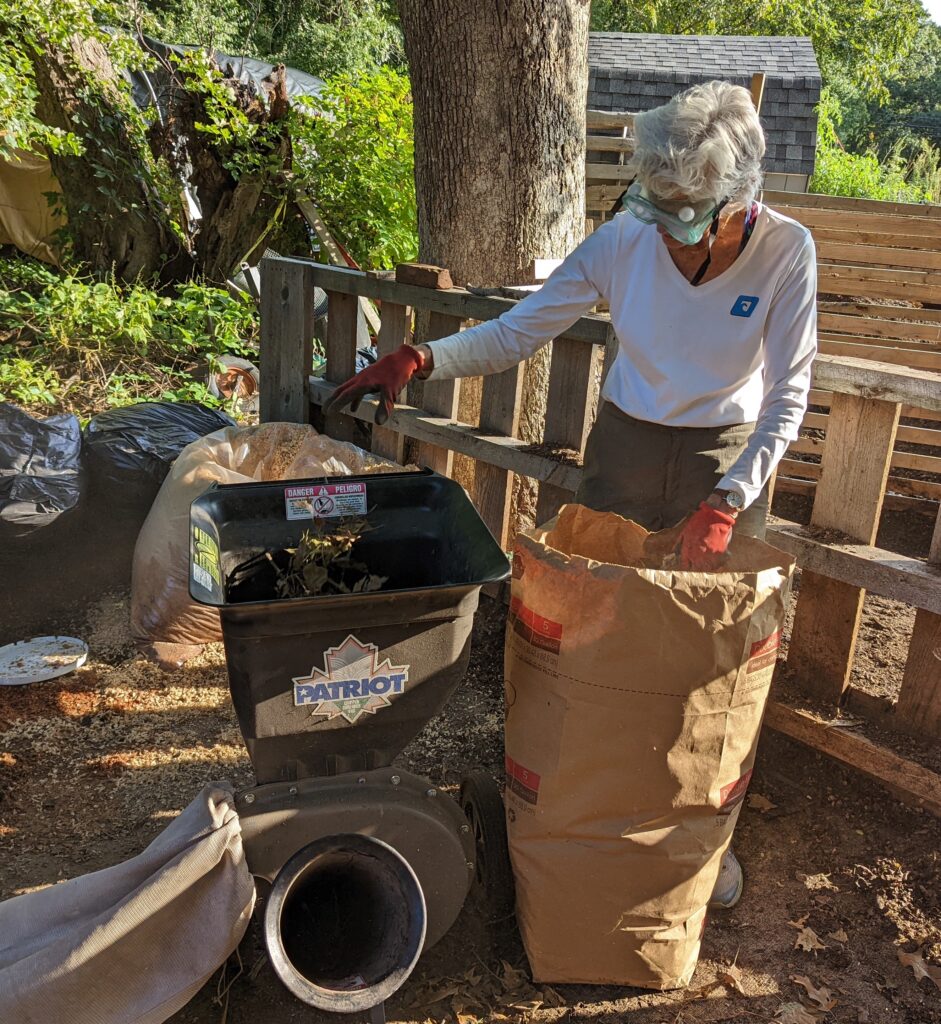 We're running low on leaves from last fall. So we've fired up our trusty electric shredder, donated by Clean Ocean Access, to shred sticks and add carbon to our compost piles.
Tip Please keep white (bleached) paper towels out of your food scrap. Bleached paper towels, napkins, and bags contain toxic chemicals. Brown paper towels are fine to compost as long as they were not used to clean chemicals, cleaners, paints, and pet waste.
We need volunteers. Join us Wednesdays at 3:15 p.m. and Sundays at 9 a.m. for mixing. It's easy and great exercise. Email questions to BarringtonFarmSchool@gmail.com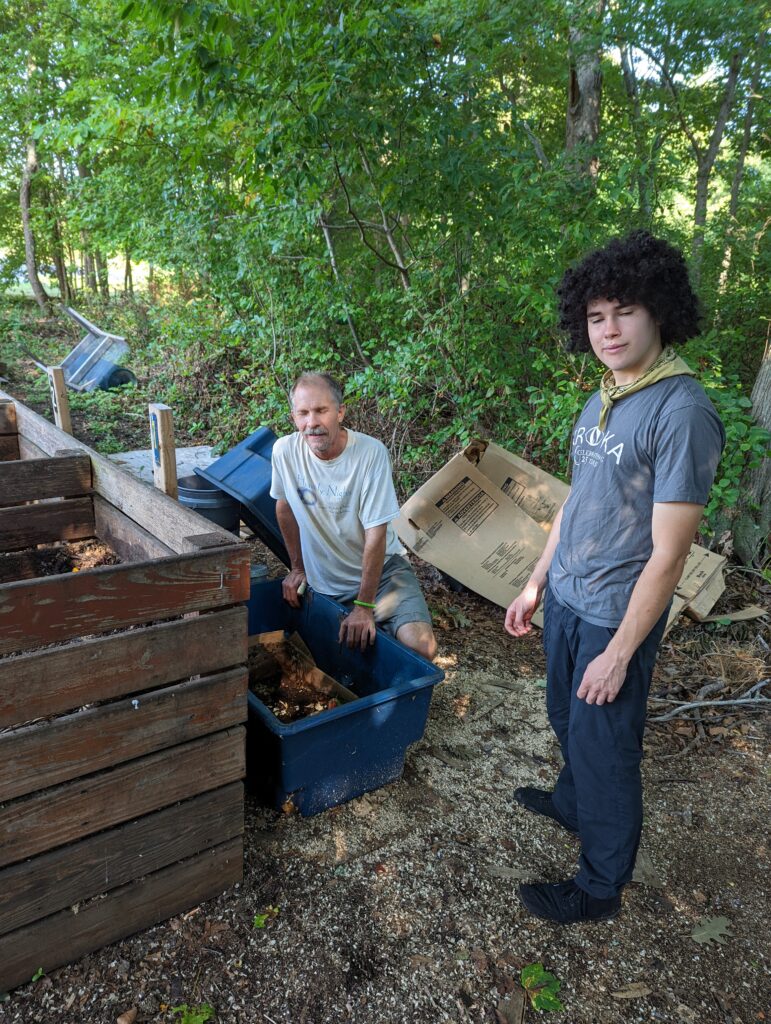 September 9, 2022
Mike and Theo having fun flipping a pile of wonderful compost.
Our numbers are in for July and August
Total scrap collected
January: 3,500 approx.
February 2022: 3,524 lbs.
March 2022: 3,811
April 2022: 4,177
May 2022: 4,333
June 2022: 4,740
July: 4,388
August: 4,731
Please visit us to see the compost mixing operation Sunday mornings 9-10:30 and Wednesdays 3:15 p.m. – 5 p.m. Questions: BarringtonFarmSchool@gmail.com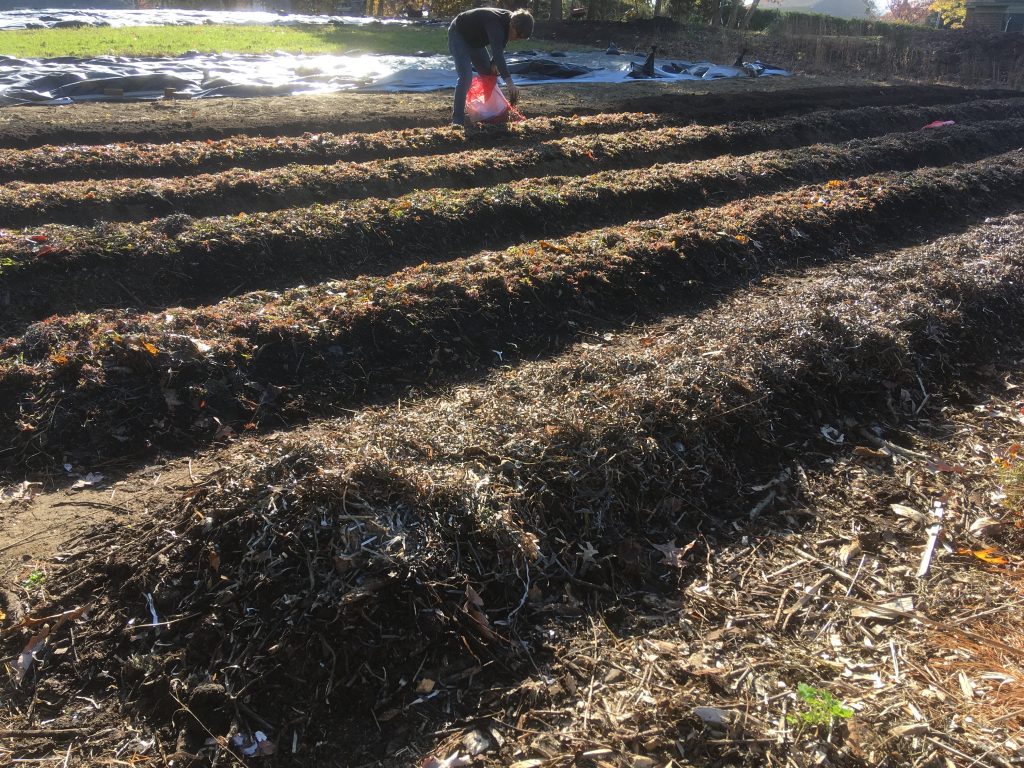 September 2, 2022
Please visit us Sunday at 9 a.m. and Wednesday at 3:15 p.m. to mix the scrap. All are welcome.
No compost tea this weekend. But we have lots of finished compost that we are spreading on the fields for our fall crops and bed preparation for next year.
The food scrap drop-off looks great. Folks are doing a great job keeping plastic and compostable bags out of the drop-off bins. Please email us if you have any questions about items we accept at BarringtonFarmSchool@gmail.com
August 26, 2022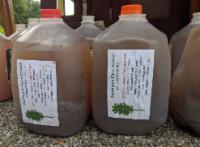 Compost tea is back this weekend. Stop by the farm stand between 10-noon on Saturday to grab a jug. Or take a walk back to Camp Compost to see the brewer and our operations. Join in the compost mixing if you like. It's a great workout.
A reminder to please keep compostable bags and compostable paper and fiber items like to-go containers out of the food scrap. They contain harmful plastics and chemicals like PFAs.
Here's a video on some of the sneaky chemicals that harm compost.
August 19, 2022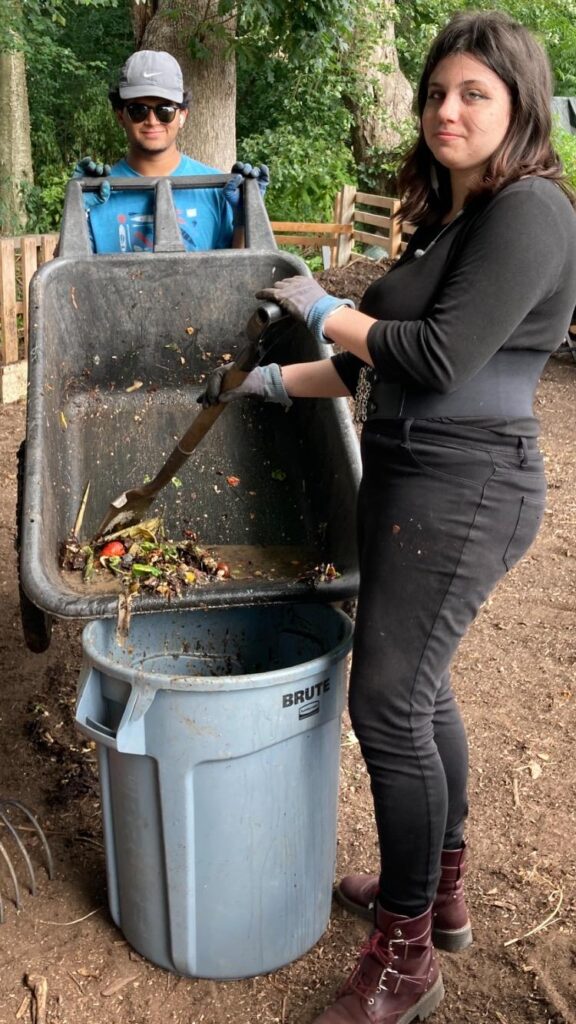 No worm tea this weekend but likely next Saturday.
Well be spreading BFS compost on fields this week as some fall and cover crops are planted.
Kent Street drop-off site is filling regularly. Email us to join this site.
Send inquires to BarringtonFarmSchool@gmail.com
August 12, 2022
We had a great turnout with volunteers, with three high-school students joining us Wednesday. Karen got "Camp Compost" looking sharp. We added signs to the stalls and and filled some gaps in the wood.
We brewed worm tea on Wednesday too and brought some via Compost Bus to the farmers market Thursday. There may be a couple extra jugs at the farm stand on Saturday.
The Kent Street drop-off site is going strong. We are cleaning it more often. Email us if you'd like to use the site for scrap drop-off. BarringtonFarmSchool@gmail.com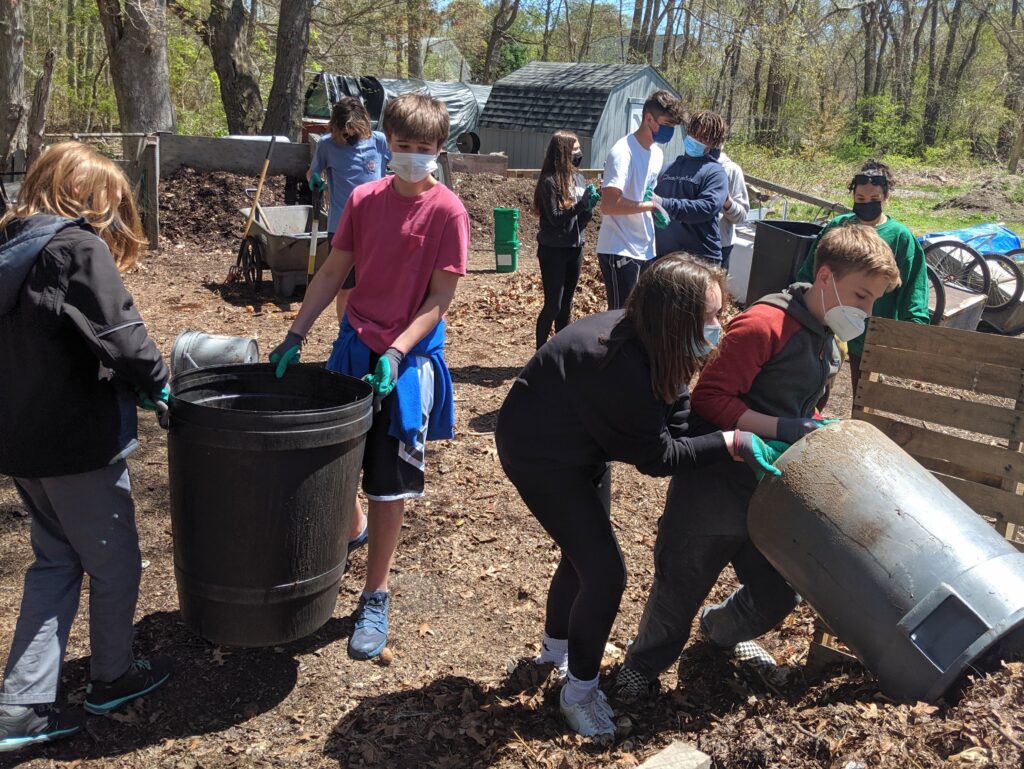 August 5, 2022
Thanks to a great group of volunteers keeping up with the growing supply for food scrap. Grover, James, Vikram and others from LaSalle Academy have made a big difference during the hot days. Fortunately, we have lots of shade and take water breaks.
No worm tea this Saturday, but we'll have some on Thursday. We can brew at request so let is know if you are looking for some.
Please stop by any Weds. at 3:15 p.m. , Sunday 9 a.m.- 10:30 a.m. and Saturdays 9 a.m. – 11 a.m. to see the compost operations in action or join the volunteer mixing crew. Ask for Jill, Tim, Kelvin, Mike, or Lindsay.
July 29, 2022
We'll have worm tea at the farm stand Saturday morning by 10 a.m. Stop by and purchase some and learn about its benefits for home gardening and growing.
Participants have been doing an excellent job of keeping plastic bags, compostable bags and compostable to-go and food-ware out of the collection bins. It keeps our compost clean, healthy and chemical-free. Thank you!
July 22, 2022
The food scrap collection continues to climb. Here are some recent monthly collection numbers:
January: 3,500 approx.
February 2022: 3,524 lbs.
March 2022: 3,811
April 2022: 4177
May 2022: 4333
June 2022: 4,740
Thank you for participating. Please visit us to see the compost mixing operation Sunday mornings 9-10:30 and Wednesdays 3:15 p.m. – 5 p.m.
July 15, 2022
We'll have compost tea this weekend at the farm stand. Please visit us between 9 a.m.-11 a.m. on Saturday at 9-10:30 on Sunday to see our operations. And check out our Compost Bus electric bike at the Barrington Farmers Market on July 21.
Be on the lookout for upgrades to the food scrap drop-off at the farm stand.
July 8, 2022
No compost tea this weekend but stay tuned for more next week.
The food scrap drop-off has been going well. Folks are remembering not to include compostable bags and compostable food-ware and to-go containers. These contain plastics and harmful chemicals that are not suitable for making compost that grows food.
Here is an excellent presentation on worm composting by our friend Monique Bosch.
July 1, 2022
What is compost tea? It's a mix of organic ingredients and compost or worm castings. We brew them in a 50-gallon vat for 24-hours. The result is rocket-fuel for your garden. Available at the farm stand on Saturdays.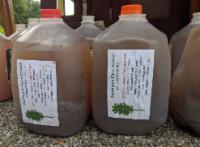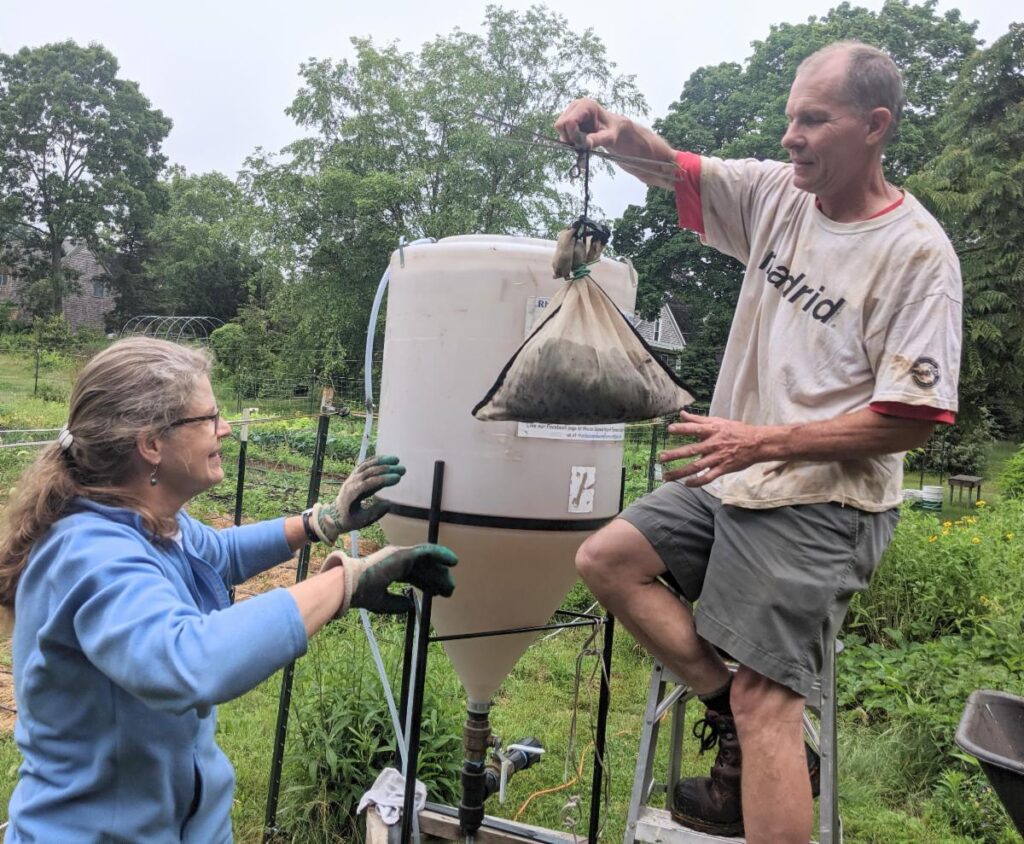 June 24, 2022
A wave of finished compost is nearly ready for using on the crops. Several new bins for curing and turning the food scrap have been constructed out of used wood. The unwanted lumber and posts were salvaged from pallets and curbside waste. We always prefer repurposed material to help the environment. Many of our tools and equipment are from donations.
A reminded to keep compostable food-ware and compostable bags, or plastics bags of any type, out of the drop-off bins at Kent Street and the farm stand. They contain plastics and other additives that we don't want to use for compost that grows food. Thank you!
Compost Goes Full Circle at Middle School
In September 2021, Barrington Middle School students in Julia Texeira's after-school program brought food scrap from the cafeteria to the farm's compost operation. Throughout the year, they delivered scrap and mixed and turned it into rich compost. In early June it was returned by bike to the Middle School's new garden. Students have planted pumpkins, tomatoes, cukes, squash, and carrot in their farm compost. Contact Julia at BMS to help tend the garden.
May 2022 Collection Totals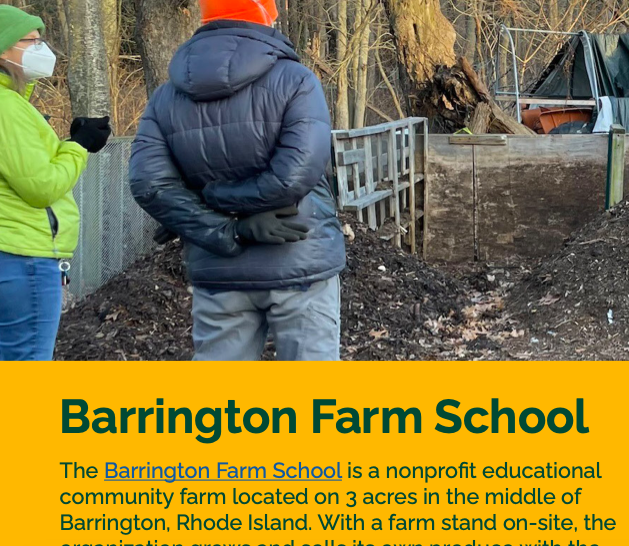 Center for EcoTechnology recognizes the Community Compost Program for efforts to cut food waste in Rhode Island. See the report here.
Record Compost in 2021
Volunteers processed a record 44,000 pounds of food scrap in 2021. In 2020 we processed 19,000 pounds. (See the chart below.) Most of the scrap came from the free community drop-off at the farm stand. But we saw increases from other sources such as St. Andrew's School, Barrington High School and Barrington Middle School and a few businesses like Bevvies Juice Bar and Bagels Etc.
BFS and the town Conservation Commission started a remote drop-off at the Kent Street tennis courts with an e-bike collection. Email us to participate. Or let us know if you need help getting your scrap to the farm. BarringtonFarmSchool@gmail.com
See the article in the Barrington Times.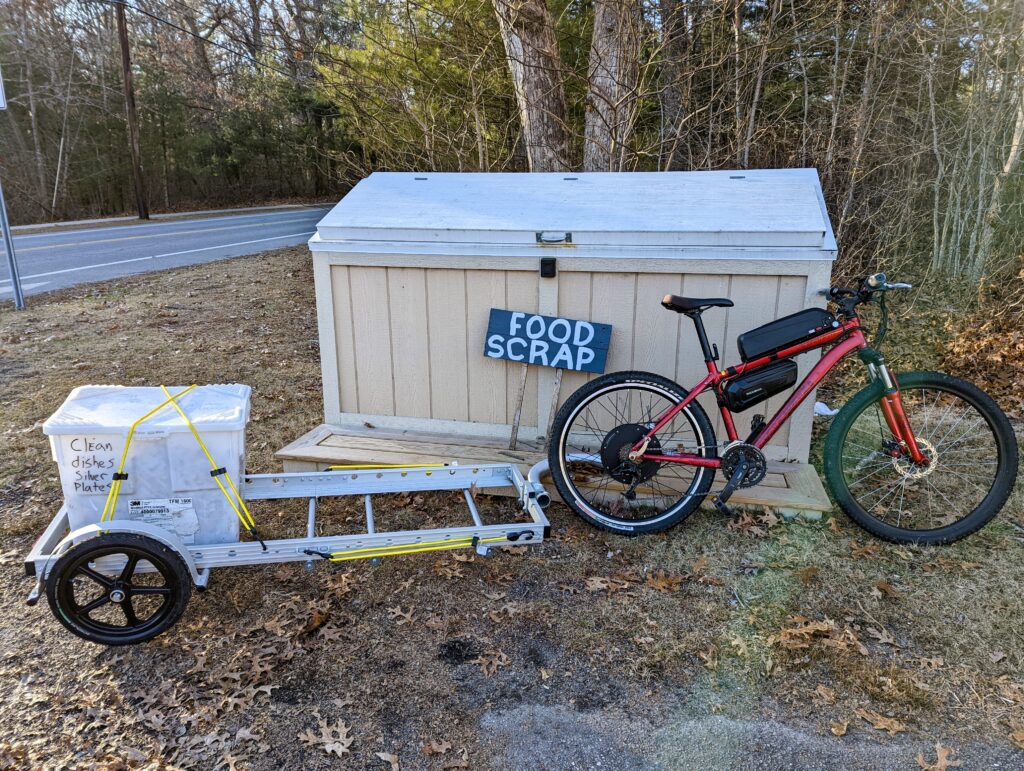 Bring Us Your Leaves
Leaves are in abundance right now, so bring these unwanted gifts of nature to the farm and help turn your food scraps into compost. In bags or by truck, just send us an e-mail at BarringtonFarmSchool@gmail.com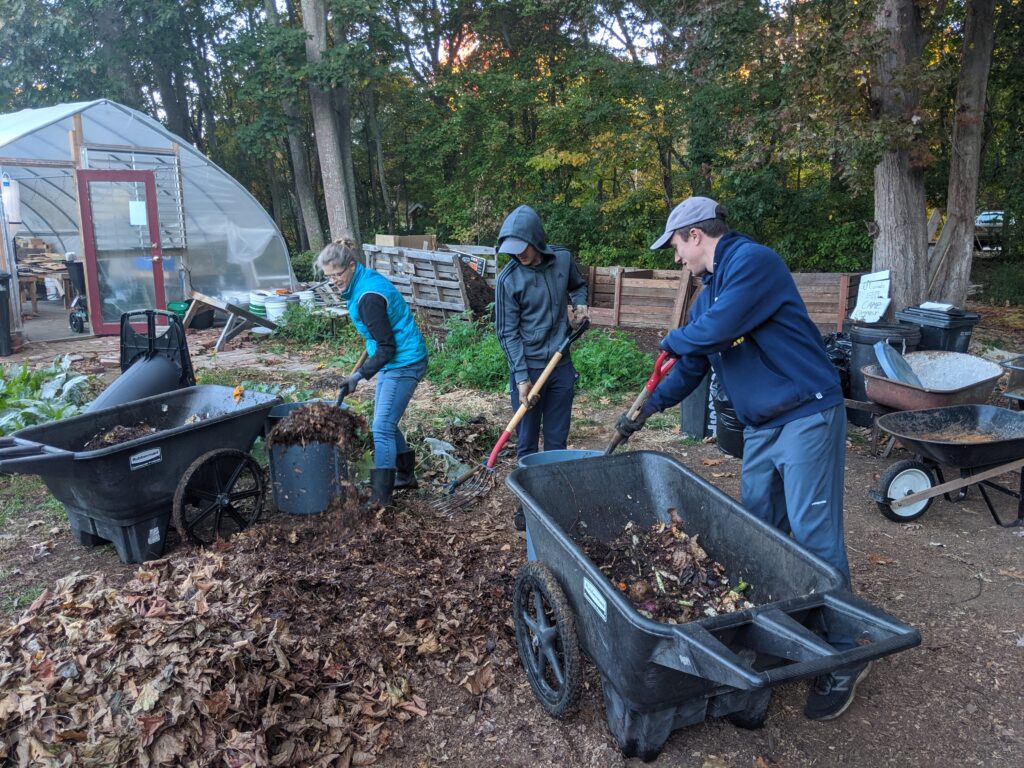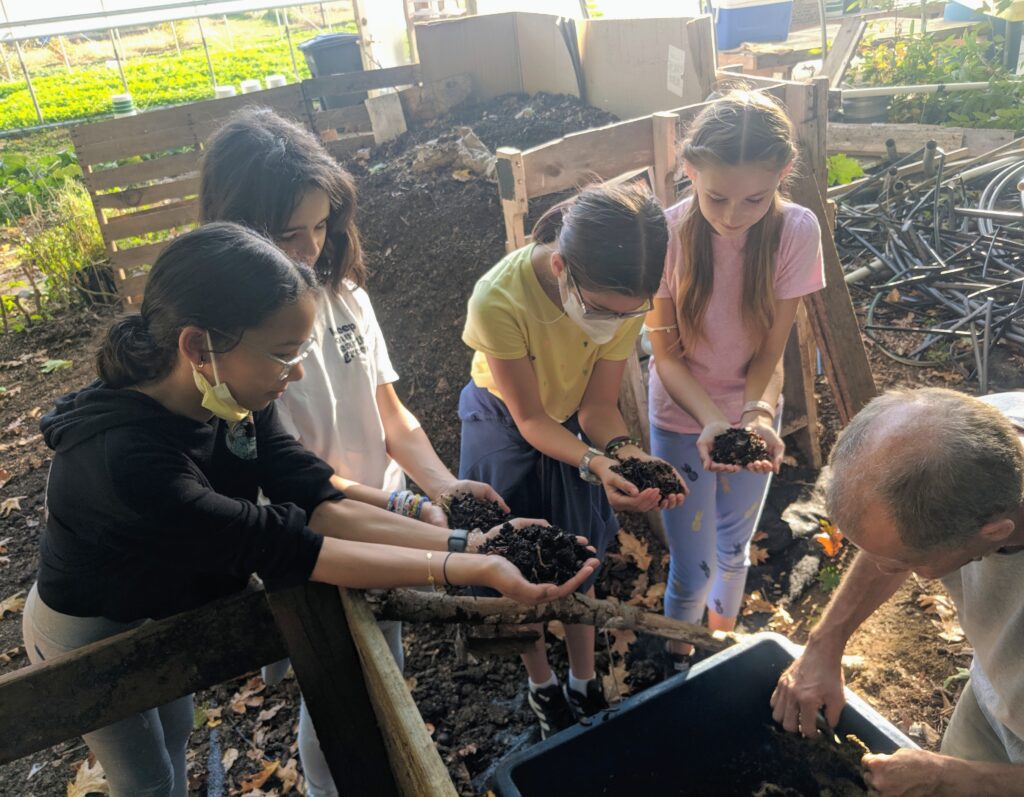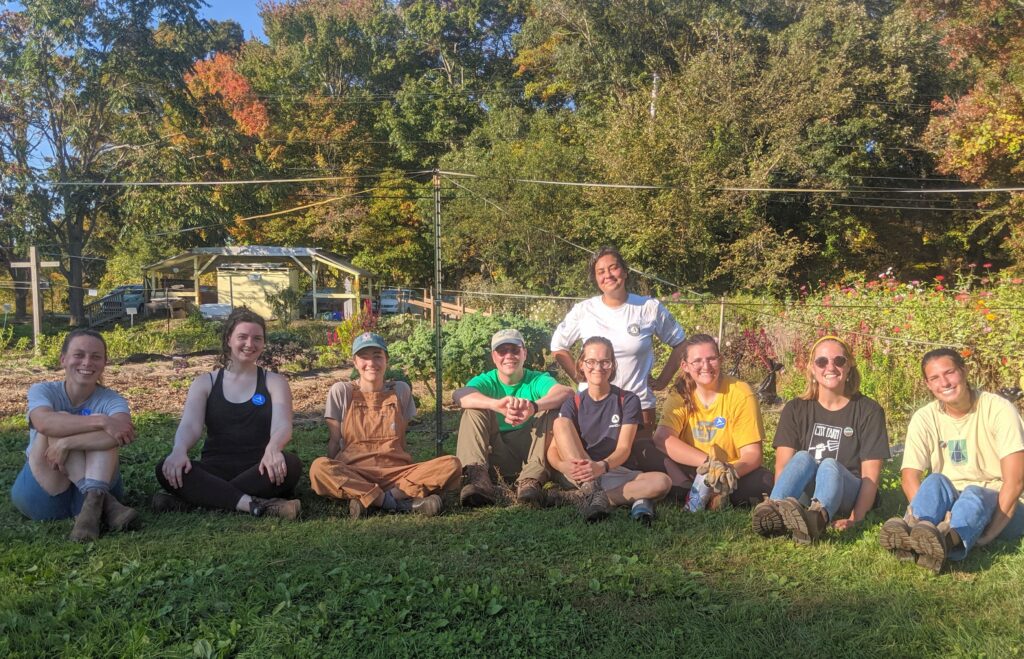 Thank you to TerraCorps: A team of local TerraCorps members pitched in at the farm for their annual day of service. Throughout the day they turned many large piles, dug, trenches and put down wood chips.
New drop-off site: Our Community Compost Program, in partnership with the town Conservation Commission, wants more residents to enjoy the benefits of composting. So we are launching a new drop-off "hub spot" next to the tennis courts on Kent Street. Unlike our open drop-off system at the farm stand, this bin has a lock. This allows us to manage the scrap and communicate with users. The service is still free, but we need your email to share information on keeping it running smoothly. So please email us for the combination to the lock and enjoy the new service. BarringtonFarmSchool@gmail.com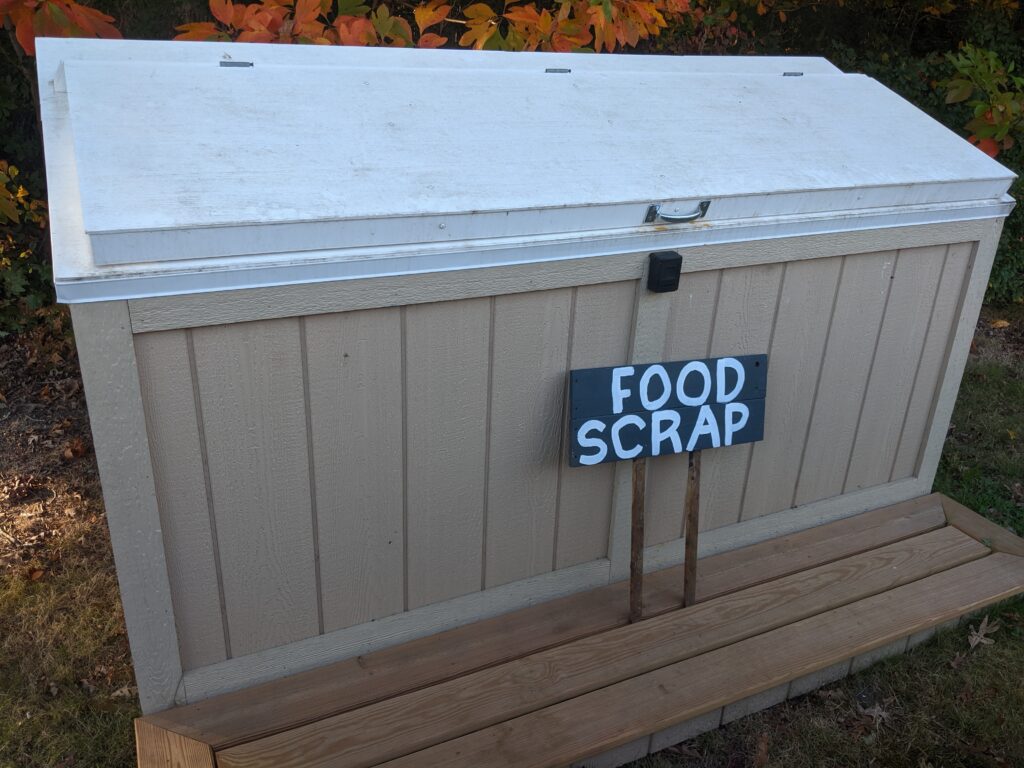 September was a record month with more than 6,000 pounds of scrap collected at our drop-off site next to the farm stand. Also in September, we resumed collection from St. Andrew's School, Barrington High School, and Barrington Middle School. We are also looking for coffee grounds, so please let us know of businesses that might spare some.
We are getting lots of fresh fruit pulp from Bevvies Juice and Smoothie Bar in Warren. This is great food for our worm compost program
See 2021 collection totals below.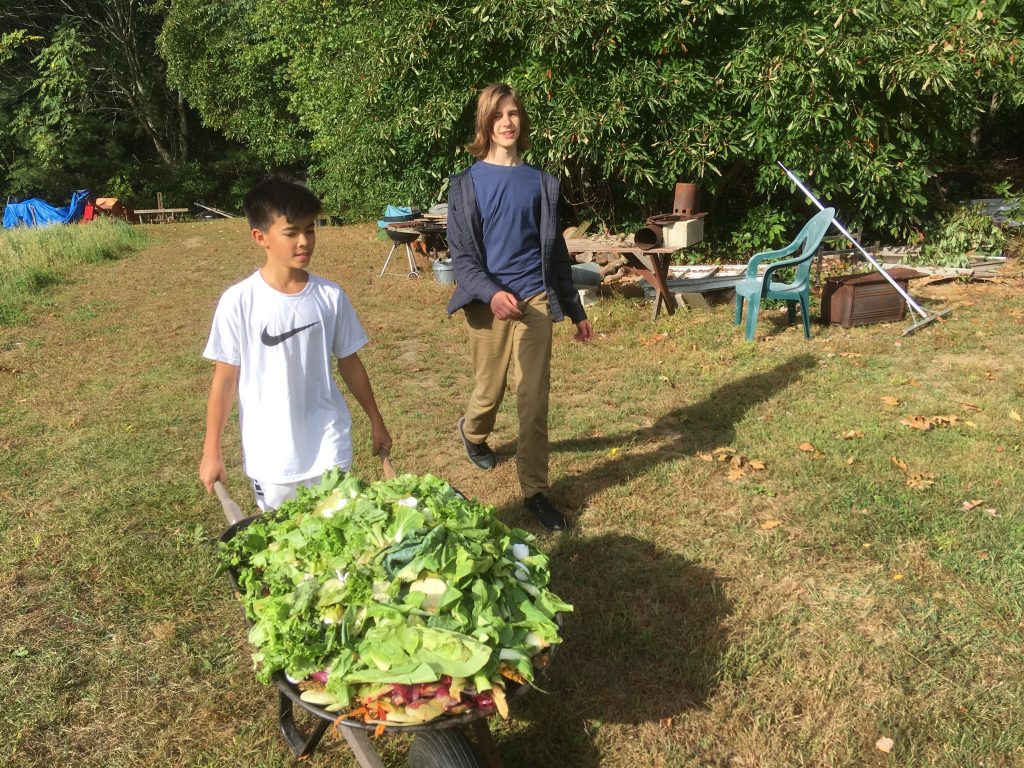 Community Compost Program
The story: Collecting and harvesting food scrap from local schools and the public mitigates the volume of reusable energy sources from entering the landfill is a priority for us at Barrington Farm School. We remain invigorated and determined to deepen the stream of local awareness and the harvesting of energy sources in order to create richly complex soil amendments right here in Barrington.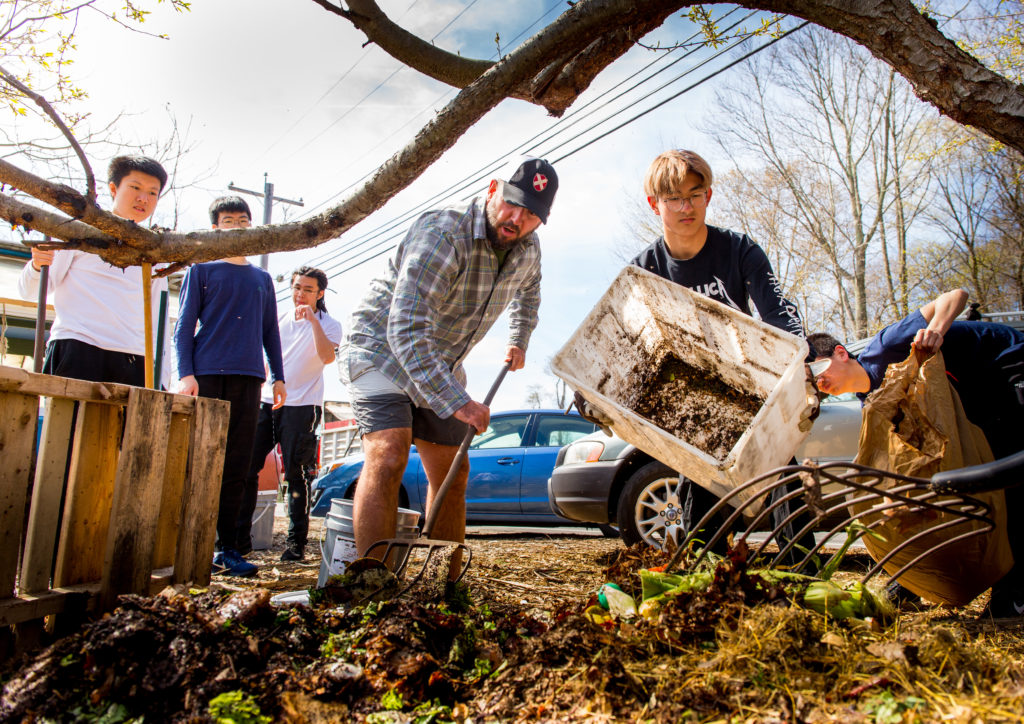 Public Food Scrap Drop Off
We collect food scrap from seven local schools and provide a drop off location adjacent to our farm stand. There you will see a green toter where you drop in the food scraps you've been collecting in a bucket or container. We do the rest. It is a good idea to add shredded paper to your bucket or container as it assists in curbing any odors and allows for the decomposition process to take hold.
Consider what you can do to curb reusable energy – such as – building a collection system in your neighborhood. Imagine if each home on a street had a five-gallon bucket, and they collected these weekly into a larger toter .. then we came by in the farm truck to collect the toter, wash the buckets, and so on.
Creative and systemic changes and viable easy to do solutions are essential if we are to change the world by changing our local spaces.
History
The Community Composting Program got its start in 2009 with its first food-scarp collection operation at Sowams Elementary School.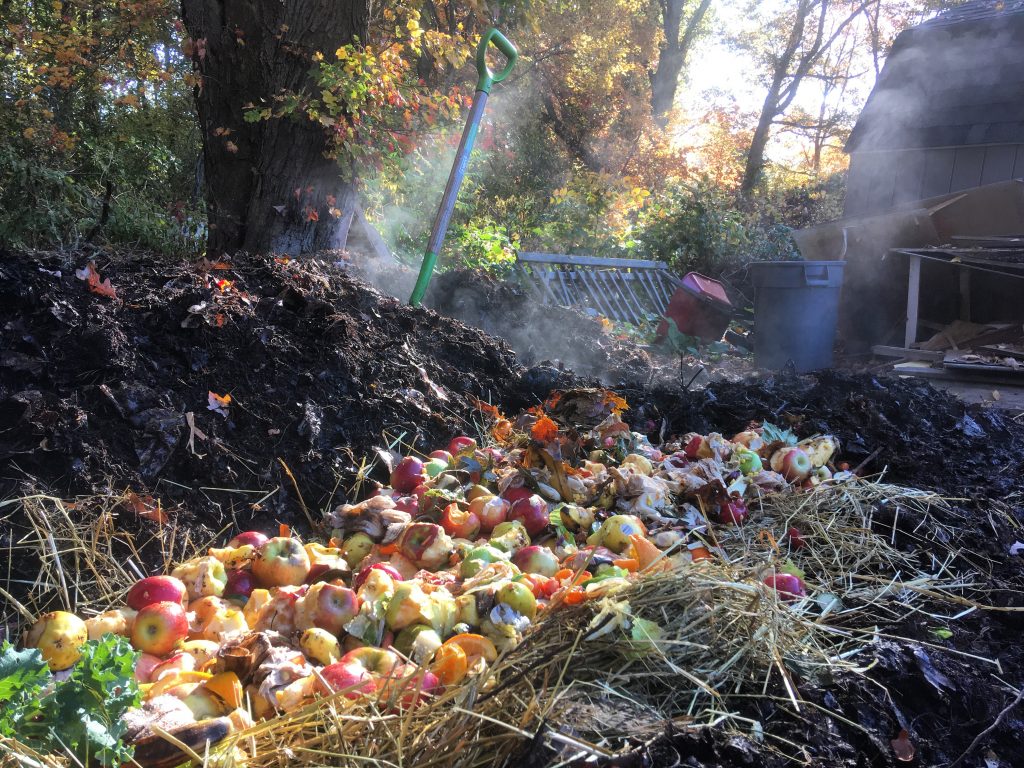 With a team up of parents, students, administrators, and custodians and led by the Barrington School District Green Team, the program began by collecting food scrap in the Sowams School cafeteria. Students eagerly embraced the program, volunteering at collection stations during lunch to guide classmates on the do's and don'ts of food scraps and recycling. Teachers and administrators marveled at the students' enthusiasm for the program and how it made the lunch experience more orderly.
Sowams has since served as a model program visited by other school districts interested in learning about composting at their schools and the many educational opportunities it offers.
Hampden Meadows School, Primrose Hill School and Nayatt School followed about a year later with the same results. Several efforts led by students and the District Green Team to replicate the program at the Middle School and High School have, so far, failed. But St. Andrew's School has since come on board and embraced food-scrap collection.
Food scraps were initially composted onsite at Sowams School for use in the school garden. Kelvin Misiurski and his son Klein also built a compost collection system at Hampden Meadows. A third multi-bin system was built at the Middle School by high school student Will Robichauxs for his Troop 2 Eagle project. Several students have performed senior projects and other school initiatives focused on expanding the program.
Led by a team of volunteers, all compost is now brought to the Barrington Farm School for processing where the program continues to serves as an educational tool for students and the public. Fresh compost is used at the farm and returned to schools for onsite use. District Green Team/Farm School members also visit schools each spring to give composting presentations.
Public food-scrap collection has been a success at the farm, reducing the local waste stream while offering a way to engage students and the community about farming, food, and resource management.
New additions for 2021 are a worm tea brewer purchased from the Rhode Wormer Farmers Co-Op. We start brewing at the farm every Friday morning and distribute it on Saturday mornings. Learn more and join the fun by emailing us BarringtonFarmSchool@gmail.com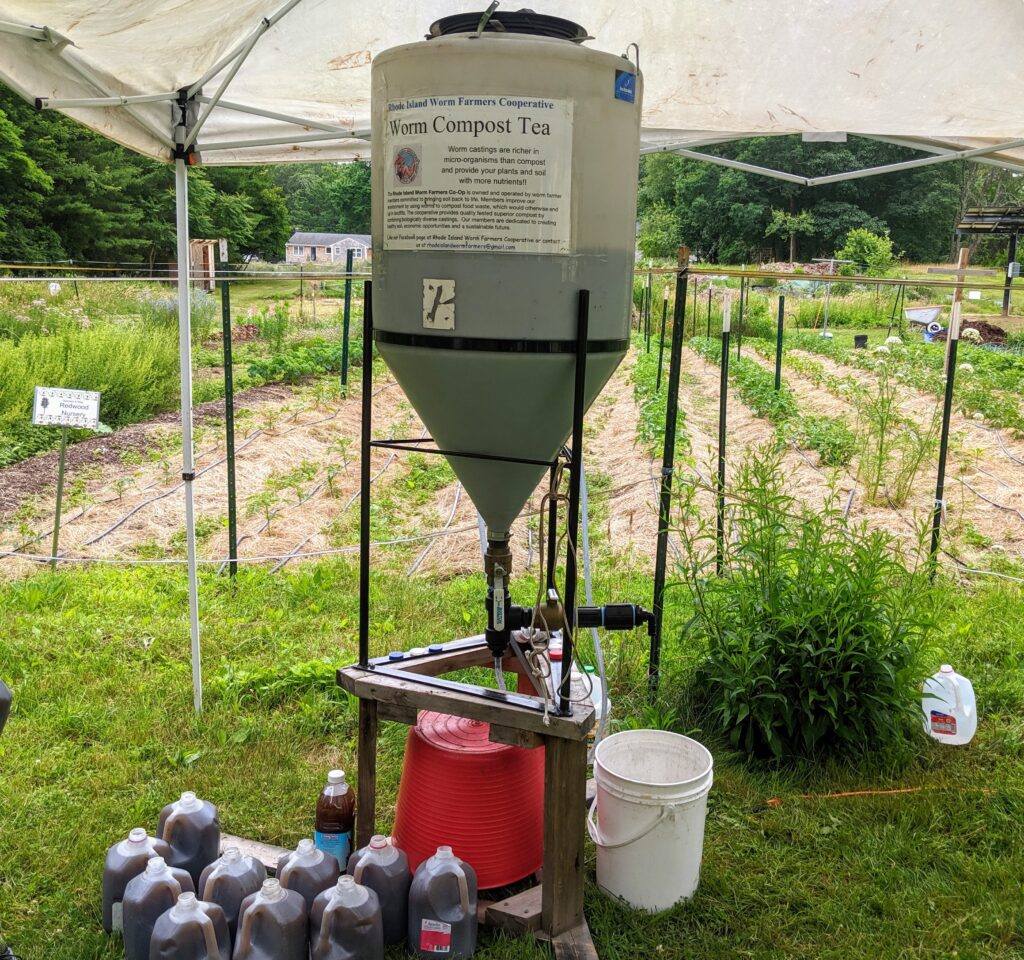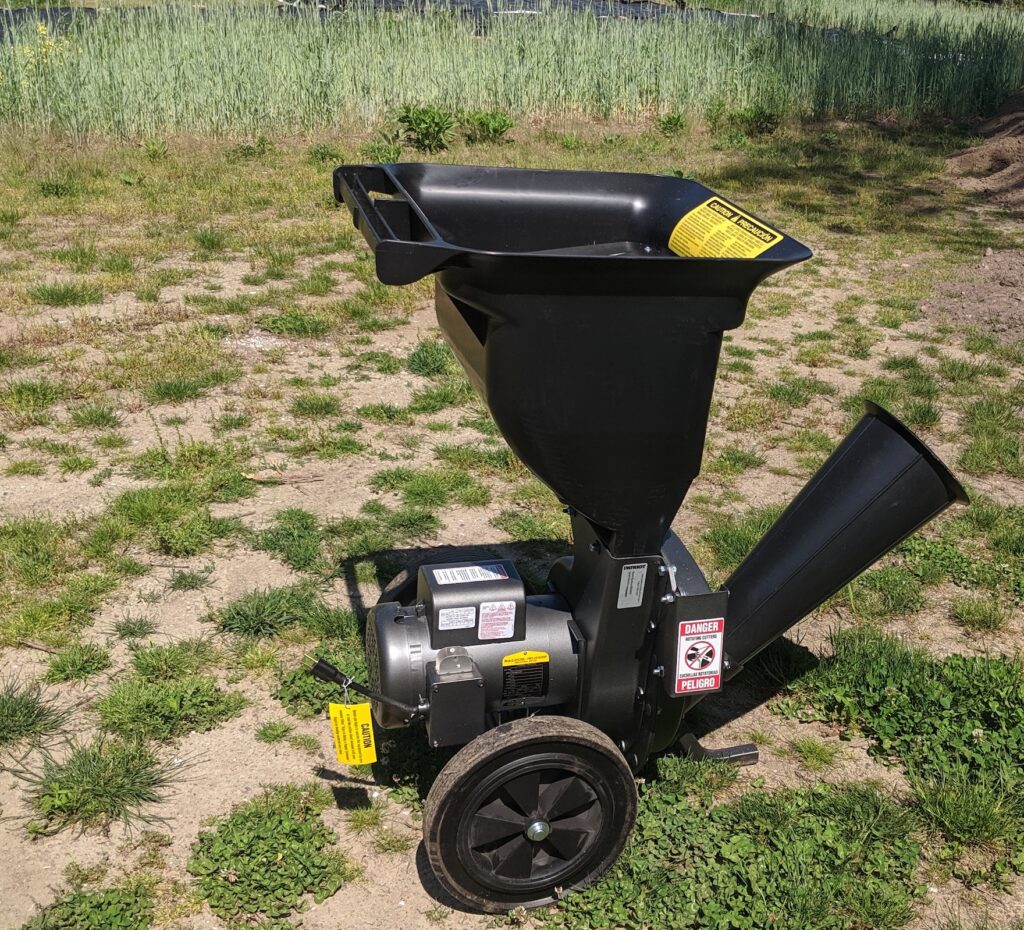 Thank you to our donors for 2021. BankNewport and Clean Ocean Access- 11th Hour Racing. These partners have allowed us to purchase key tools like our new electric-powered shredder and equipment for our ever-growing volume of scrap and volunteers.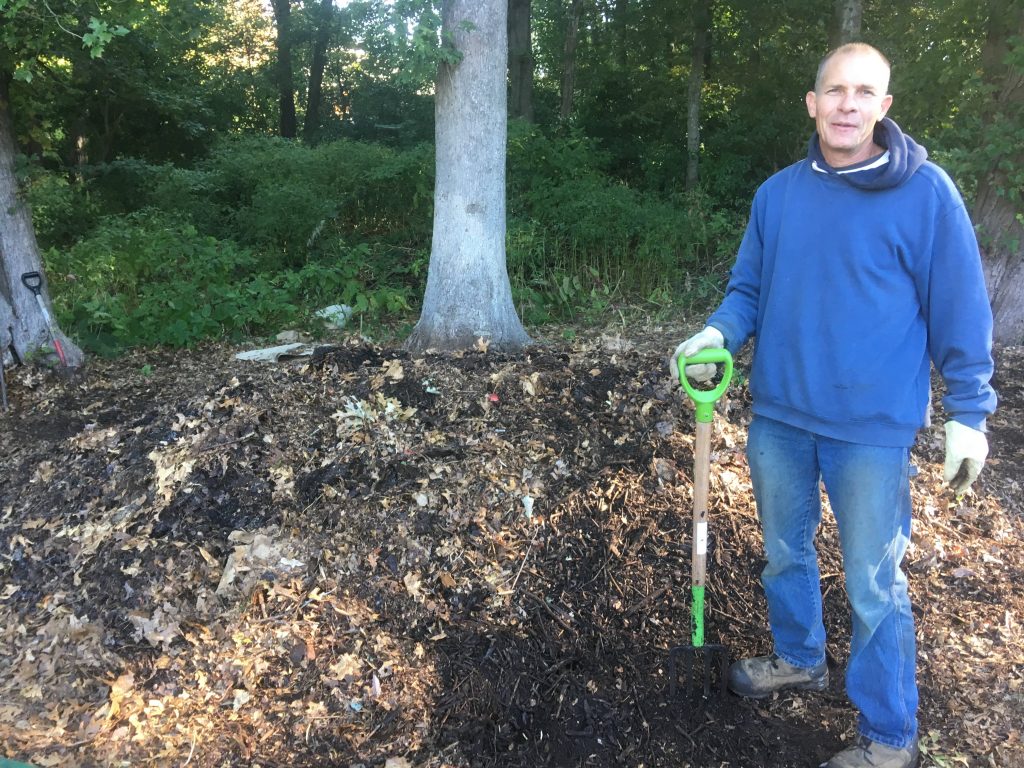 2021 Monthly Collections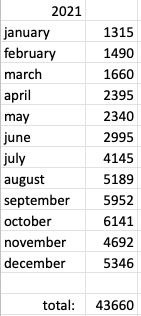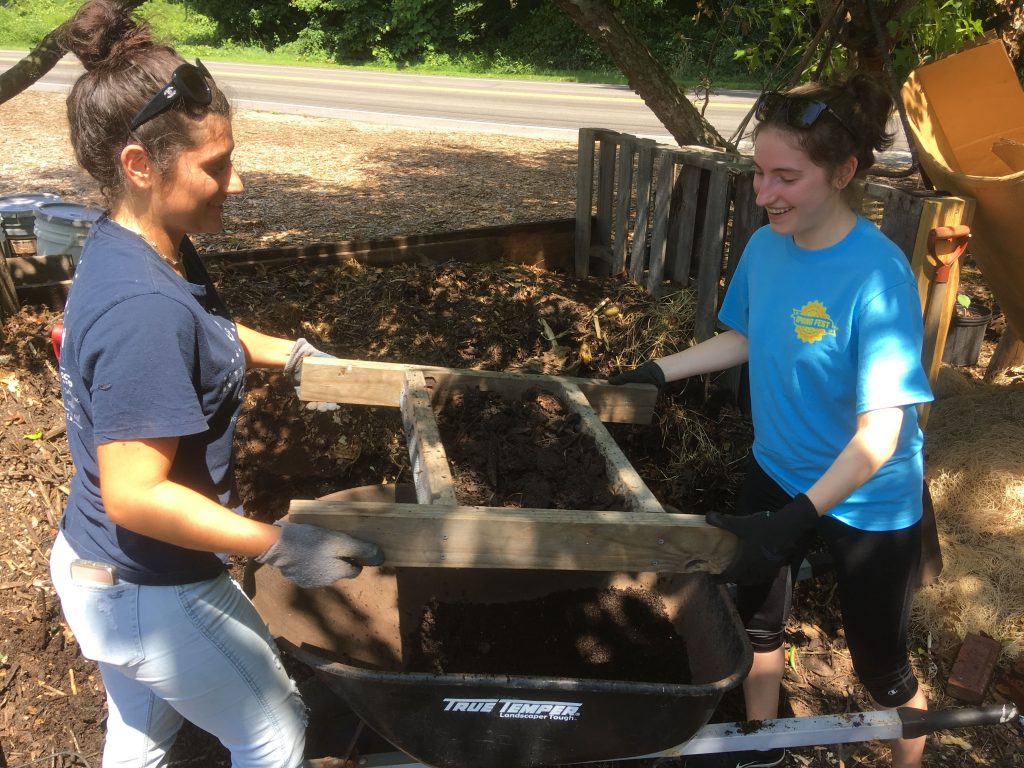 2019-2020 Totals: Click here